One of the best ways to enjoy Barcelona is with your taste buds. You'll find an amazing gastronomic culture ranging from reasonably priced daily set menus to internationally renowned Michelin-starred restaurants, together with traditional and creative tapas and tasting platters, or a glass of vermouth and a snack on a terrace with views of the Mediterranean. Bon appétit!
Barcelona offers a wide range of gastronomic delights to suit all tastes and pockets. Many people go on short breaks to the city just to eat at some of its world-renowned restaurants. But the city didn't have top-class restaurants until the 18th century when the influence of French cuisine reached the kitchens of Catalonia which was at the height of an economic boom. Eating houses and restaurants, such as the Maison Dorée, El Gran Restaurante de France and El Suizo, which once stood in the centre of the Catalan capital, sowed the first seeds of the subsequent success and recognition of Catalan cuisine. Gastronomic places of worship which were greeted with enthusiasm by the emerging moneyed-classes.

A great way to travel back in time is to sit at the table of some of the restaurants that have endured the passing of the years. They are the survivors of an era when intellectuals, the bourgeoisie and artists shared the same tables; places where you can travel back in time and discover some of the kitchens where people first began to cook what we know today as Catalan cuisine.
Can Culleretes. One of the most iconic places in the Gothic Quarter. This restaurant started out as a cake shop and café which opened in 1786 serving "crema catalana" (Catalan crème brûlée), "xocolata desfeta" (thick hot chocolate), "mel i mató" (curds and honey)… Curiously enough, according to the owners, the restaurant takes its name from its early success. It turns out that it had more customers than spoons so that when the diners saw a waitress pass by, they would shout out "noies, culleretes!" (girls, more spoons!). Can Culleretes later became a restaurant frequented by artists, celebrities and writers. More than 200 photographs hang from its walls, a living legacy bearing witness to its history.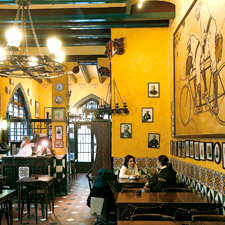 4 Gats. It would be sacrilegious to talk about historic restaurants without mentioning the 4 Gats. A bar with the spirit of a Parisian cabaret that first opened in 1897. Poets such as Rubén Darío, the playwright Santiago Rusiñol, the young Pablo Picasso, Gaudí and many more sat around its tables. People say that, while it was in business, it was the main source of inspiration and the focal point of the city. The owner, Pere Romeu, was an idealist who didn't charge his artist-customers if they couldn't afford to pay. It's no surprise he never became rich and that he had to close down the business until new owners could take over. Barcelona also owes a debt of gratitude to Romeu. If we think about it carefully, each corner of this legendary café still echoes with the ideas of some of the finest brains of all time: people who changed the city forever.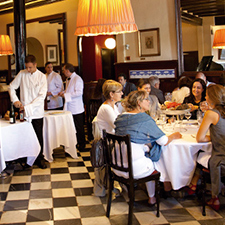 7 Portes. Among the 120 oldest restaurants in Spain. Josep Xifré i Cases, the wealthiest Catalan of the time, was obsessed with building houses inspired by the buildings that embellished the Parisian squares and the central Rue de Rivoli. He built them on the edge of the Barceloneta district and called them the Casas Xifré. He set up his office and home in the building and opened a luxury restaurant and café on the ground floor. The restaurant had eight doors, seven for customers and one for goods and staff. Since 1836, politicians and intellectuals have sat at its tables. When you step inside the 7 Portes, you may miss holding your pocket watch and looking at the time through your monocle.
Three restaurants that will take you back in time… but these aren't the only ones. There are many more, such as Los Caracoles, Can Ramonet, La Bodegueta, Can Pineda, El Señor Parellada…Don't miss them!
Can Culleretes. Carrer d'en Quintana, 5. How to get there: Liceu (L3).
Els 4 Gats. Carrer de Montsió, 3. How to get there: Jaume I (L4).
7 Portes. Passeig d'Isabel II, 14 (davant de Pla de Palau). How to get there: Barceloneta (L4).